This is possibly the
single most exciting giveaway
I have run so far on Pen to Paper!
Earlier tonight, I went with two friends from University to an evening with author, S J Watson, who was talking about his writing process - the novel writing course with a publisher, and how he developed his idea - and also about the book that was produced by this.
Before I go to Sleep is his debut novel, and is already a huge success, having topped the British bestsellers lists and stayed there for many consecutive weeks. The film rights to the book have also been bought, and the film is now in the pre-production stage, but already eagerly awaited.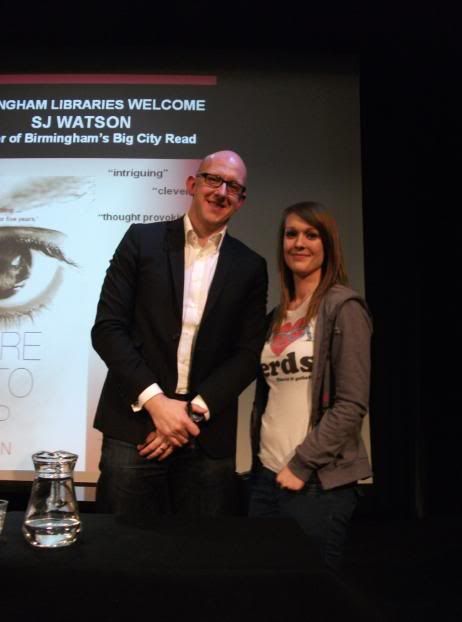 Me with S J Watson!
After the packed library theatre had listened to him speak, and we'd had a Q&A session with him, we had a book signing, where we managed to speak to him personally, have photos taken, and of course, get books signed. Obviously, I had a book signed for myself - my already well-read copy - but I also had a second, brand-new copy signed.
This copy is up for grabs in this giveaway!
I do have photos of the wonderful book that is up for grabs, but before we start, I'll lay out the rules for the giveaway.
The giveaway will be international. I will be posting the book out myself, so anyone can enter!
You must be a follower of Pen to Paper via GFC to enter. This is really the only requirement. I get these prizes for my wonderful, much-appreciated followers, so please make sure that you are one of them! I reserve the right to disqualify entrants that do not meet this requirement.
There is one initial entry for following Pen to Paper via GFC, and then there are a series of optional extra entries. You do not have to earn these extra entries, but they could be the difference between someone else winning, or you taking the prize!
Entrants must be 13 or over.
When the giveaway is over, I will email the winner to obtain their postal addresses - please no PO Boxes. If I receive no reply to this email within a 48 hour time period, I will have to draw another winner - someone has to win the prize!
Please do not leave your email address in the comments below. I have trouble with this nearly every single time I have a giveaway. I use the Rafflecopter widget so that your email addresses and personal details are kept safe, and only accessed IF you win the giveaway. Once the giveaway is over, they are deleted.
The giveaway will end on March 31st 2012 at 23:59 EST
So, do you want a taster of what is up for grabs?!
Official website synopsis:
Memories define us. So what if you lost yours every time you went to sleep? Welcome to Christine's life.
Christine wakes up every morning in an unfamiliar bed with an unfamiliar man. She looks in the mirror and sees an unfamiliar, middle- aged face. And every morning, the man she has woken up with must explain that he is Ben, he is her husband, she is forty-seven years old, and a terrible accident two decades earlier decimated her ability to form new memories.
But it's the phone call from a Dr. Nash, a neurologist who claims to be working with Christine without her husband's knowledge, that directs her to her journal, hidden in the back of her closet. For the past few weeks, Christine has been recording her daily activities—tearful mornings with Ben, sessions with Dr. Nash, flashes of scenes from her former life—and rereading past entries, relearning the facts of her life as retold by the husband she is completely dependent upon. As the entries build up, Christine asks many questions. What was life like before the accident? Why did she and Ben never have a child? What has happened to Christine's best friend? And what exactly was the horrific accident that caused such a profound loss of memory?
Every day, Christine must begin again the reconstruction of her past. And the closer she gets to the truth, the more un-believable it seems.
Do you want to win this incredible prize?! Of course you do! Get following, and then get yourself entered in the Rafflecopter below! Good luck to everyone!
a Rafflecopter giveaway