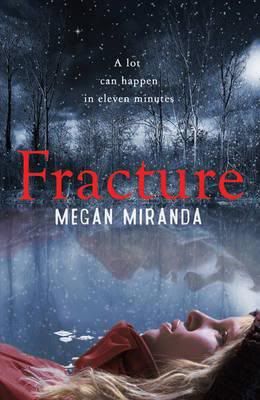 Fracture by Megan Miranda
Thank you to Bloomsbury for my copy of the book
Goodreads synopsis:
Eleven minutes passed before Delaney Maxwell was pulled from the icy waters of a Maine lake by her best friend Decker Phillips. By then her heart had stopped beating. Her brain had stopped working. She was dead. And yet she somehow defied medical precedent to come back seemingly fine. Everyone wants Delaney to be all right, but she knows she's far from normal. Pulled by strange sensations she can't control or explain, Delaney finds herself drawn to the dying. Is her altered brain now predicting death, or causing it?
Then Delaney meets Troy Varga, who recently emerged from a coma with similar abilities. At first she's reassured to find someone who understands the strangeness of her new existence, but Delaney soon discovers that Troy's motives aren't quite what she thought. Is their gift a miracle, a freak of nature-or something much more frightening?
For fans of best-sellers like
Before I Fall
and
If I Stay
, this is a fascinating and heart-rending story about love and friendship and the fine line between life and death.
I think I'll start off by saying that this is an
incredibly
unique book. The novel opens with the protagonist, Delayney's, accident: she falls through the ice and stays submerged for eleven minutes. She should have died. She did die. But somehow she comes back to life.
The opening sentence of the novel is one of the most gripping first lines I've seen in a
very
long time:
"The first time I died, I didn't see God."
From that moment on, I was hooked. Absolutely and utterly hooked. Just the idea of the 'first time' someone had died - meaning that something else like this was going to happen to her again. I needed to find out what was happening, and what was going to happen later on, right from that very first sentence.
The novel was written in first person, from Delaney's point of view, and this was really effective. It allows the reader to get into her head and start to understand what it must be like for her, after her near-death experience, and what it's like to feel these distinctly abnormal events afterwards.
After dying, and then coming back to life, Delaney is able to 'sense' death - she feels an itch in her head, and a tugging, that leads her to the sick and the dying. This would usually be a fairly difficult thing to imagine, but the way it's written makes it feel so real, that it's entirely believable.
I did really enjoy this subtle paranormal twist to the novel - and I say subtle, because although it was the central element to the novel, it didn't stand out too much - it felt like it belonged there. I think that's part of what makes it such a successful book. And the paranormal element was so different from most of the other things I've read before.
I also enjoyed how thrilling the novel was. I think I was on the edge of my sofa, most of the way through the book - but especially towards the final 20-30 pages - the end of the novel is some pretty intense stuff!
It wasn't just the plot that was fantastic though, but the characters too! Obviously, Delaney's character is a great one, but there are plenty of others to go around, and other characters that also help make Delaney's character more dynamic. Such as her relationships with her parents, Decker (her best friend and neighbour, Troy (the mysterious boy that keeps showing up) and some of her other school friends - they all help to create a deeper character for Delaney. These relationships also mean that the novel isn't just about the paranormal stuff, or about death, but it's also about the limits of friendship, and how far things have to go before those friendships begin to break.
I honestly can't recommend this book enough - if you've not already read it, and you don't already own it, what are you doing? Go and get yourself a copy - you won't be disappointed.