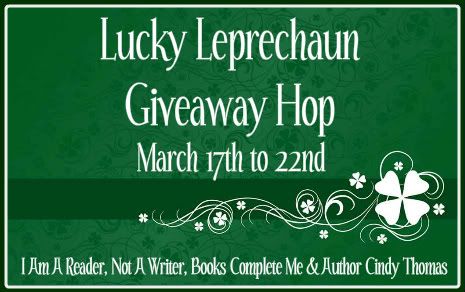 This giveaway hop is hosted by Kathy at
I am a Reader, Not a Writer
,
Books Complete Me
and
Author Cindy Thomas
.
You can view the other blogs in the giveaway hop by clicking
HERE
.
As always, I've really been looking forward to getting this giveaway up and going - I just love being able to give back to all of you, and say a huge thank you for following and supporting the blog!
Before I tell you what the
lucky
winner of this giveaway could win though, I'd like to remind you of my usual giveaway rules and guidelines, as well as the specifics for this giveaway.
You must be a follower of Pen to Paper via Google Friend Connect (GFC) in order to qualify for entry. I will need you to put your exact follower name in the extra info box in the first entry on the Rafflecopter, so that I can verify your entries. This giveaway is for my wonderful followers, so why not become one of them? :)
The giveaway is international, so anyone who the Book Depository will ship to for free can enter. Not sure if your country is included?

Click here

to find out.
There is one initial entry for following Pen to Paper via GFC, and then multiple extra entries. These extras are not mandatory, but they could be the difference between you winning, or someone else taking the prize.
As I will be sending out the prize from The Book Depository, I can't be held responsible for any books damaged or lost in transit.
There will be one winner, who is able to choose their prize from the suggestions given below, or if there really isn't anything there that they want, they'll be able to choose one book from The Book Depository up to the value of $10.
When the giveaway is over, I will email the winner, who will then have 48 hours to reply to this email. If I don't receive a reply within this time, they will lose their prize and a different winner will be drawn. Someone has to take the prize, afterall!
Please don't leave your personal details (such as an email address) in the comments anywhere on Pen to Paper. I use Rafflecopter so that your information remains safe. Please take advantage of that.
The giveaway will end on March 22nd at 23:59 EST.
So what are the choices? You can choose from one of the books in the list below (but never fear, if there really isn't anything you want on display, you can choose a book from The Book Depository up to the value of $10). As always, you can click on each image to go to the Goodreads page and read the books' synopsis.
Now all that's left to do is get yourselves following, and then get entering! Good luck to all of you!
a Rafflecopter giveaway