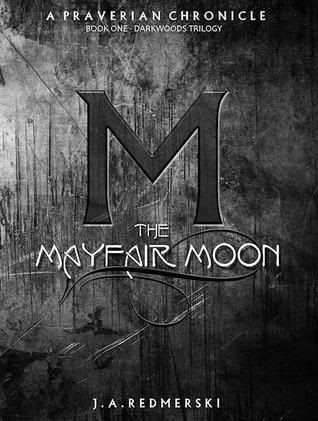 The Mayfair Moon by J. A. Redmerski
Goodreads synopsis:
After a nightmarish encounter with a werewolf, seventeen-year-old Adria Dawson loses her sister, but gains the love of a mysterious young man and his legendary family.
Strange and tragic things begin to happen in the small town of Hallowell, Maine: residents come down with an unexplainable 'illness' and some disappear. In the midst of everything, Isaac Mayfair is adamant about keeping Adria safe, even from her sister whom he has warned her to stay away from.
As unspeakable secrets unfold all around Adria, impossible choices become hers to bear. Ultimately, no matter what path she takes, her life and the lives of those she loves will be in peril. As she learns about the werewolf world she also learns why her place in it will change the destinies of many.
It is obvious to me that J. A. Redmerski is a very talented lady - she certainly knows how to tell a story!
I was immediately captivated by the rich world that she paints from the very beginning - I was with Adria and Alex, under that tree in Georgia, listening to their conversations. I was instantly captivated by the setting she created around these wonderful characters.
Even when the atmosphere turned dark and frightening, the story held together really well - it wasn't over the top, as some of these descriptions in the genre can be, but allowed the reader's imagination to fill out the image of the gruesome beasts that we are presented with, and follow Adria as she tries to come to terms with what she's seen.
I'm going to take this opportunity to mention the reasons for knocking a star off the rating. This star was not knocked off because the story lacked excitement, or enough complexity to carry itself, or even great characters - all of that was there - but there
is
something worth mentioning. I just don't want it to be what you take away with you from reading this review.
I did notice that there was a fair bit of odd grammar used throughout the novel. There were phrases where one word was not quite right - a 'with' used instead of a 'to', for example. The author was also quite fond of the word 'upon' - even where it didn't quite make sense - "We came
upon
the end of the tunnel" - what was wrong with "We came
to
the end of the tunnel"?
I thought this was a little odd at the beginning of the novel - the word was just a little too formal, and that made it feel out of place, but I could ignore it for a while. When I found that it was being used frequently throughout, though, it became difficult to ignore, and I found I had to keep replacing the word, and correcting the grammar in my head as I read.
Whether or not I noticed this, and it bothered me, is because I am an English and Creative Writing student at University, I don't know. Perhaps I'm one of the few that would notice.
This was really the only downside to the novel for me, so I thought I'd get it out of the way early.
Don't let this put you off though - the story was
definitely
enough to make up for this.
I particularly enjoyed that the author didn't just follow the conventions of the modern 'Paranormal Romance' genre, in regards to the Werewolves. All too often now, we see these supernatural creatures as romanticised - they are beautifully sculpted men and women, who transform into large, beautiful, and graceful, fully-formed wolves. Most of the time, I suppose, this is okay, and it works well with the romance of the genre,
but
it's nice to see a version of the creature like Redmerski's - a formidable version with a
real
sense of danger.
Redmerski's Werewolves are certainly not cuddly puppies
- and I think that this is part of the reason that the story is so exciting and gripping.
There was also such a diverse range of characters, that it's nearly impossible to get bored with any of them, and it creates such a depth of relationships that the story couldn't work without this diversity. I'll be really intrigued to see how these relationships develop and change in the following books in the trilogy, which I'm
definitely
looking forward to reading.
Overall, I really loved this novel - it was recognisable as a part of one of my favourite genres, but it still held its own in the category - I think it really stands out.
I would recommend this to lovers of paranormal romance and fantasy, but I'd also urge others - even those unfamiliar with the genre - to give it a go.

And now for another exciting event - the
international
eBook giveaway. Courtesy of Ms. Redmerski, Pen to Paper will be giving away
one
eBook copy of The Mayfair Moon to one lucky follower of the blog.
Before you get going on your entries though, I'd like to lay down a few rules:
This giveaway is international, and can therefore be entered by anyone. However, you must be a follower of Pen to Paper via Google Friend Connect to qualify for entry.
I will need your exact Google Friend Connect follower name in the info in the Rafflecopter below. I reserve the right to disqualify any entrants who do not complete this properly, or who are not following publicly.
There are extra entries available for this giveaway. These are optional, but they could be the difference between you winning, or someone else taking the prize.
When I email the winner at the end of the giveaway, they will have 48 hours to reply to this email, before I will have to disqualify their entry and draw another winner. This isn't anything personal, but someone has to win the prize!
Please don't leave your contact details in the comments anywhere on my blog. I use Rafflecopter so that your details remain safe - please do take advantage of this.
The giveaway will end on March 31st at 23:59 EST
Right - all that's left to do now, is make sure you're following, and get entered. Good luck to all of you!
a Rafflecopter giveaway